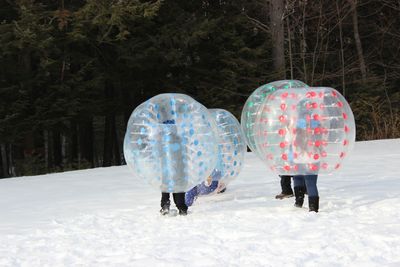 Important Information for Parents
CELL PHONES* and CAMERAS are strictly prohibited at SNOWCAMPS due to minor privacy laws. We are asking that you do not send either of these with your child. However, we know that many parents would like their child to have a cell phone for communication purposes. If this is the case, please inform your son or daughter that upon arrival at registration they will be asked to turn in their cell phone. It will be kept in a secure place and returned to them at the end of the weekend. If a cell phone or camera is found after registration, the camper will be sent home immediately - no exceptions. Please remember - this is to protect the privacy of your son or daughter.
SNOWCAMPS uses balloons in one event during the weekend. If your child is allergic to latex, please contact one of the SNOWCAMPS Leaders to discuss your child's options during that event.
The SNOWCAMPS busses will stop for dinner at Burger King on the way up on Friday evening or campers may bring their own dinner is desired. Arrival time at CAMPS Brookwoods will be sometime after 7:00pm depending on traffic. Parents driving their children should not arrive before 7:00pm. (7:30pm preferred) Busses will not stop for dinner on the homeward trip. Busses leave at 4:00pm on Sunday from camp.
It is our honor and privilege to serve you and your family by playing a small part in the faith development of your junior high son or daughter. We take our responsibilities very seriously and will in every part of our ministry strive for excellence. Our prayer is that every snowcamper develop a personal relationship with Jesus Christ and have one of the best weekends of their lives!
What to Bring
sleeping bag
pillow
towel
soap, shampoo, and toiletries
warm clothes for outdoor activities
Extra socks
snow boots
hat and gloves
Money for Burger King on Friday evening or brown bag dinner from home
Recommended
Slippers for indoor use
Bible
Money for optional purchase of SNOWCAMPS T-Shirts/Sweatshirts $20.00-$25.00
Credit,Debit,MoneyCards are now accepted
Do Not Bring
Ipods
pets
weapons
cameras
cell phones*
assault wands